Improving Policy: Learning from Farmers Responses to Knowledge Exchange
Published on 24 March 2014 in Sustainability and Communities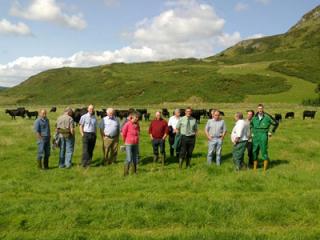 Introduction
As researchers our main ambitions include effective communication of science knowledge, and through it improving the success and sustainability of the Scottish agricultural industry.
Understanding the science of effective knowledge transfer and exchange (KTE) and evaluating activities to investigate their potential impact as well as barriers to innovation therefore forms an important part of our research.
The findings of these studies highlight a number of points, which provide insights into why farmers do not respond in ways expected and could help improve the development of more effective policy intervention.
Key Points
Expert staff are crucial to the facilitation of effective KTE.
The perceived expertise and trustworthiness of those presenting new ideas and technologies is an important factor in likelihood of adoption.
Good communication skills, including awareness of the pre-existing knowledge level of the audience are essential for effective KTE, but are not always held by the most knowledgeable scientist.
Commercial situations present many barriers that are overlooked by external stakeholders and a failure to address these barriers in new technologies and ideas presented to potential end-users is limiting the level of adoption.
Research Undertaken
Every year SRUC holds a large number of KTE events for farmers and other stakeholders. Typically these aim to provide new information and knowledge that will enable farmers to develop their business practices and make better use of resources and exit surveys are used to obtain feedback.
Farmers say they attend such KTE events to learn and improve practices. They are therefore keen to innovate and will actively invest time to do so. Consistently farmers are very positive about the quality of information provided at KTE events. For example, over nine recent events (260 individual responses) only 6% of respondents indicated that insufficient information had been provided for them to develop their business practices. However, many report the presence of barriers that will stop them putting new ideas and technologies into practice. In these recent events on average 17% (and in some cases up to 40%) of respondents indicated that cost, labour and time barriers would restrict their ability to use the new knowledge gained. 'Other' barriers to adoption were also reported by 14% of respondents.
These findings indicate that changes to farm management practices are being limited by the resources available on farm to implement new ideas and technologies. They also suggest, assuming the innovations being presented are ready for application, that their developers have underestimated the cost of innovating in practice or that those costs and the potential benefits are not being fully communicated.
Among the 'other' barriers overlooked by proponents of innovations were incompatibility with the existing farm system and side effects that could cause conflicts with regulatory compliance across a range of issues. Overcoming these barriers has the potential to increase the level of innovation and increase the returns to investment in science by government, levy boards and private companies.
Policy Implications
There are three leading policy implications from this research:
1. Improving innovation and returns to investment in science requires a greater focus on ensuring scientific and technological developments take full account of:
the resource constraints on farms
likely implementation costs
compatibility with farming systems
potential side effects
This may require additional research resources to test the compatibility of innovations and develop them further to better match potential end-user needs.
2. Increased recognition of the need for and value of evaluating science and technology KTE to provide guidance on improving returns to investment in research.
3. Continued support is needed to develop the communication skills of researchers to ensure that they can effectively transfer their knowledge and exchange ideas with key stakeholders.
Author
Dr Catherine E Milne, Future Farming Systems Group, SRUC Cath.Milne@sruc.ac.uk
Topics
Sustainability and Communities
Comments or Questions