Latest Briefing in Climate, water and energy for 2013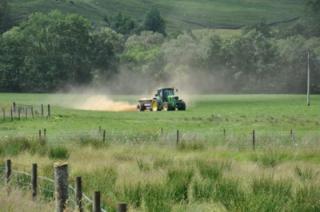 Nitrogen Use Efficiency (NUE) has been an explicit goal in agricultural policy for a number of decades. The Scottish Government recently proposed a target of a 90% voluntary uptake of the most cost-effective nitrogen efficient practices in order to enable the transition towards a low carbon economy. Uptake of NUE is also implicit in regulations aimed at improving water quality, such as the designation of Nitrate Vulnerable Zones, of which there are four in Scotland. Despite being seen as a 'win-win' measure there is still potential for increased uptake of NUE within the agricultural industry.
Encouraging uptake of NUE requires co-operative action across a number of levels within the agricultural and related industries. The supply chain for Nitrogen involves advisors from industry and the public sector, researchers, policy makers, regulators and the farmers themselves. Accordingly, an innovation systems (IS) approach, which assumes that technological transformation is the product of co-operation and alignment between all the actors within an innovation supply chain, was applied to begin to address the problem of low uptake of NUE.
The IS approach helps to identify barriers and potential solutions for the implementation of innovative practices.
Read more
Published on 17 December 2013 in Climate, water and energy
Briefings in Climate, water and energy for 2013
An understanding of the interactions between roots and the soil is fundamental to food security, human nutrition and environmental sustainability. Read more
Published on 30 July 2013 in Sustainability and Communities , Climate, water and energy , Food, health and wellbeing
Ovine Pulmonary Adenocarcinoma (OPA) , an infectious lung cancer in sheep, has a major economic on farming. Read more
Published on 26 June 2013 in Sustainability and Communities , Climate, water and energy , Ecosystems and biodiversity , Food, health and wellbeing
In recent years, the impact of climate change on our environment has become the subject of much debate. Read more
Published on 2 May 2013 in Climate, water and energy
Scotland is committed to achieving substantial increases in the proportion of energy from renewable sources. Read more
Published on 7 March 2013 in Climate, water and energy