Latest Briefing in Ecosystems and biodiversity for 2015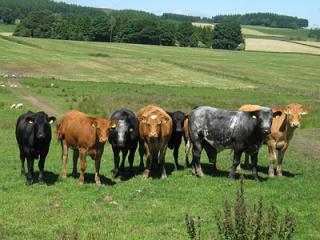 Scottish Government's policy on disease control is that prevention is better than cure, however in practice this can be difficult to achieve. One of the strategies that farmers can adopt is to maximise farm biosecurity. This means minimising the probability that diseases can enter the farm for example, by home breeding instead of purchasing replacement livestock.
At the extreme, actions are taken to prevent all disease transmission routes, as during the 2001 UK outbreak of Foot and Mouth Disease (FMD), which can be very costly both to individual businesses and the wider economy. A risk based approach to selecting biosecurity measures to be put in place is therefore more usual, including both selection of the key diseases to be prevented and critical control points for them.
Due to a lack of data, farmers must make these risk assessments based on experience and the best available information, they are thus judgements where the outcomes are subject to uncertainty. Gaining insights into the judgements farmers make and in particular how changing government policy affects them can help in the development of future policy and improve animal health.
As part of a wider farm management project two farmer focus groups were undertaken to investigate biosecurity practices on cattle farms, how they had changed in recent years and the factors that had lead to those changes.
Read more
Published on 10 February 2015 in Sustainability and Communities , Ecosystems and biodiversity , Food, health and wellbeing