Latest Briefing in Ecosystems and biodiversity for 2013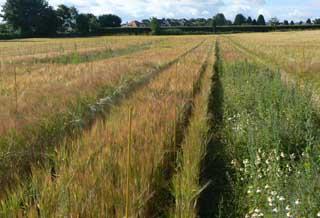 Recent rapid declines in biodiversity at a global scale have stimulated significant efforts to conserve and protect the natural environment. The focus of conservation efforts has shifted in recent years towards the protection not only of species and habitats, but also the services that our ecosystems provide. This shift has led to substantial interest in the processes that underpin ecosystem service delivery, including through the interaction of biodiversity – the diversity of genes, species and habitats in our natural environment – with the biophysical environment.
Understanding this relationship is extremely challenging, not least because of the huge range of services that we derive from nature, and the many different ways in which the components of natural systems can interact to deliver these services. One way of addressing this complexity is to break down the question into smaller components. Although we can recognise the inter-connected nature of the natural environment, it is reasonable to conclude that some ecosystem services are more relevant than others to particular sectors of society, business and government.
A recent review has considered the role of biodiversity and biophysical processes in delivery of ecosystem services in Scotland. In particular, the review focusses on "priority ecosystem services" that are considered particularly relevant to four broad policy goals: 1. A low carbon economy; 2. Sustaining food production; 3. Halting biodiversity loss; and 4. Sustainable water management. Here we summarise key information from this review that relates to the broad policy goal of sustaining food production.
Read more
Published on 10 December 2013 in Ecosystems and biodiversity , Food, health and wellbeing
Briefings in Ecosystems and biodiversity for 2013