Cropping Practices Affect Nitrous Oxide Emissions
Published on 21 May 2009 in Sustainability and Communities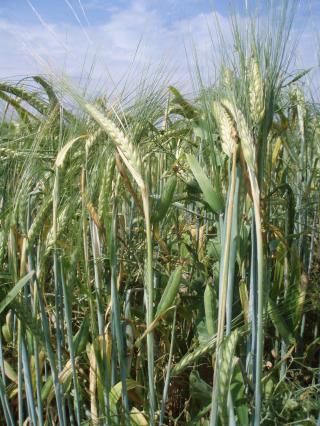 Introduction
The major source of atmospheric nitrous oxide in Scotland is agriculture (83%; Scottish Executive, 2006). Nitrous oxide is an important greenhouse gas with approximately 300 times the global warming potential of carbon dioxide, and is also involved in the destruction of ozone in the stratosphere. Agricultural management practices including fertiliser use and tillage are well known to affect the emissions of nitrous oxide from soils. Understanding how crop choice and crop management can help to reduce nitrous oxide emissions is important for the development of more sustainable farming practices.
There is increasing interest in using legumes to reduce the use of fertiliser nitrogen. Legumes offer the opportunity to add nitrogen to the soil without the need for the fossil fuel inputs that are required to produce synthetic nitrogen fertilizers. However, there is much uncertainty about the extent to which legumes themselves contribute to nitrous oxide emissions, and up until now we have had little idea that there might be differences in emissions associated with different legume varieties. Mixtures of legumes e.g. clover and grasses are widely used in grassland systems across Europe, but mixtures of cereals and legumes are currently less common. Such mixtures have the potential to reduce fertiliser use both in the season of production and also in the following crop.
Key Points
At SAC we have a programme of research focused on improving the management of both grain and forage legumes in cropping systems to optimize production and reduce any adverse environmental impacts. This includes assessing nitrous oxide losses from legumes grown in pure swards and in mixtures with cereals. We are also interested in the longer term implications of growing legume mixtures as components of rotations. Our research has demonstrated that:
Nitrous oxide emissions vary significantly with pea variety.
Nitrous oxide emissions from a cereal crop were influenced by whether the preceding crop was a legume.
Mixtures of cereals and legumes compared with cereals alone have a positive effect on the yield and nitrogen uptake of the following crop.
Research Undertaken
Replicated field experiments were carried out on sites at the Bush Estate, near Edinburgh and Craibstone Estate, Aberdeen. Pea varieties Nitouche and Zero4 were grown alone or in combination with the barley variety Westminster. Barley was also grown with clover (cultivar Alice). Subsequent experiments are comparing a wider range of commonly grown pea and bean varieties. Nitrous oxide fluxes were measured using manually closed chambers and gas samples analysed using gas chromatography
Policy Implications
There is no single solution to reducing nitrous oxide emissions from soils. We are likely to need to use a combination of approaches that increase nitrogen use efficiency within farming systems whilst taking account of the variation of nitrous oxide emissions with soil type and also with climatic conditions. We still need to improve our estimates of emissions from different sectors of agriculture and understand how these are spatially distributed. However, the possibility of selecting or even breeding varieties of legumes, and other crops, for reduced nitrous oxide losses may offer the opportunity to reduce emissions at the same time as increasing nitrogen use efficiency. Scientists in SAC, the Macaulay Institute and SCRI are using a blend of modelling and experimental approaches to design cropping systems which utilise nitrogen more efficiently and thus have the potential to reduce nitrous oxide losses. Research of this kind can be translated straight into management guidelines which could be incorporated into policy at a later date.
Author
Christine Watson, Bob Rees, Valentini Pappa, John Baddeley, Robin Walker, SAC christine.watson@sac.ac.uk
Topics
Sustainability and Communities
Comments or Questions