Latest Briefing in Sustainability and Communities for 2009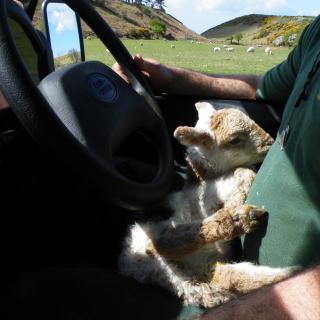 The report from SAC's Rural Policy Centre; 'Farming's Retreat from the Hills' (SAC, 2008) shows that sheep numbers have declined rapidly since 1999 in some areas of Scotland. The decline has accelerated since reform of the Common Agricultural Policy (CAP) in 2005, which saw the introduction of a Single Farm Payment and decoupling of entitlement from livestock numbers. Although the situation is complex and varies with region, it seems likely that these changes to the CAP have made it more difficult to justify keeping sheep and so contributed to the decline in sheep numbers particularly in marginal areas. This decline has important implications for the environment, biodiversity and rural communities.
Now that the financial outputs from sheep farming systems are no longer boosted by headage payments, it is particularly important farmers ensure that costs are minimised if enterprises are to remain viable. Data from the Farm Accounts Scheme for specialist sheep farms in the less favoured areas of Scotland (SAC, 2009) shows that labour costs including the manual labour of farmer and spouse represent about 50% of all costs recorded on such farms. These costs are therefore likely to come under close scrutiny.
However, labour input is an important contributor to productivity. It has also been shown to be important for animal welfare on extensive sheep farms (Stott et al., 2005). Despite this, little is known about labour use on these farms. Research to address this gap would increase understanding of the relationships between labour, productivity, profitability and animal welfare and so contribute towards development of sustainable systems of extensive sheep production.

Read more
Published on 18 December 2009 in Sustainability and Communities
Briefings in Sustainability and Communities for 2009
The potato cyst nematode, Globodera pallida, is a serious problem for growers in Scotland and in all major potato growing regions of the world. Read more
Published on 26 November 2009 in Sustainability and Communities
A major way to contribute to increased crop production is by improving control of pests and diseases through better surveillance, optimising chemical inputs and developing resistant crops. Read more
Published on 17 November 2009 in Sustainability and Communities , Climate, water and energy
It is undisputed that water is considered a very valuable resource. The main challenge for benefit estimation, however, is that water has many values, few of which are reflected in markets. Read more
Published on 6 November 2009 in Sustainability and Communities
The Office for National Statistics in its celebration of the 50 years of the report . Read more
Published on 23 October 2009 in Sustainability and Communities , Food, health and wellbeing
The impacts of changing the management of intensively managed pastures has been examined using two long-term (16 year) experiments at different sites where extensive grazing, abandonment and continued intensive grazing were compared by assessing impacts on productivity, soil chemistry, and species composition and plant diversity. Read more
Published on 12 October 2009 in Sustainability and Communities , Ecosystems and biodiversity
Edible crops ultimately provide most of the carbohydrates and essential vitamins and minerals for humankind. Read more
Published on 1 September 2009 in Sustainability and Communities
Examining how supermarket prices for six fruit and vegetables evolve over a period of time in an attempt to identify if there was a lag between price changes in one supermarket and subsequent price changes in the other. Read more
Published on 23 July 2009 in Sustainability and Communities
Effective control of endemic parasitic diseases is a requirement for sustainable sheep production however the widespread development of drug resistant parasites can now be considered as an emerging disease problem. Read more
Published on 23 July 2009 in Sustainability and Communities , Food, health and wellbeing
The long-term viability of farming in Scotland depends on the sustainable management of our agricultural habitats. Read more
Published on 20 July 2009 in Sustainability and Communities
Research aimed at evaluating and establishing accurate, reliable and objective techniques for measuring or predicting carcassand meat eating quality. Read more
Published on 24 June 2009 in Sustainability and Communities