Barriers to the Uptake of Estimated Breeding Values (EBVs) for Genetic Selection & Improvement in the Scottish Sheep Sector
Published on 13 August 2013 in Sustainability and Communities , Food, health and wellbeing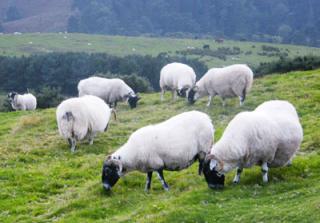 Introduction
Scotland has a reputation for excellence in research into livestock genetics. Genetic improvement using Estimated Breeding Values (EBVs) is a recognised method of enhancing productivity, profitability, and competitiveness. While EBVs are shown to help improve animal traits through selective breeding, the uptake of EBVs has been slow in the sheep and beef sectors, compared to dairy, pig and poultry producers.
Research conducted by SRUC's Behavioural Change and Innovation team has applied an 'Innovation Systems (IS)' approach which suggests that technological transformation such as EBVs, is not just about getting the science and advisory services right, but also about changing policies and institutions (e.g. regulations, cultural norms/values/beliefs, etc.) and developing collaborations with other relevant groups, such as agricultural associations, those working in the supply chain, NGOs, and so on. The research described in this brief applied an IS perspective to identify the barriers to EBV uptake in the Scottish sheep sector. Data for this case study was collected from a review of literature relating to EBVs, in-depth interviews, and a stakeholder workshop.
Key Points
This research identified the following barriers to the uptake of EBVs in the sheep sector:
Challenges within the supply chain – The way sheep are valued at market, by abattoirs and supermarkets does not currently make it advantageous to supply EBVs. Prices are often given based on the look of the sheep or carcass. The way information flows through the system prevents farmers understanding how the end price relates to individual EBVs.
Varying levels of enthusiasm in breed societies - Breed societies can have considerable influence over farmers and while some are very enthusiastic about EBVs, others are less so. The research indicated that this could be partly due to the leadership of these organisations changing frequently (every two to three years), making it difficult for new ideas to gain a strong foothold. The views of sheep society leaders may also play a role. If they don't see a strong need for the uptake of EBVs then that can influence their members.
Reduction in advisory support services - EBV adopter farmers require one-to-one advice/support during the adoption process. However, following the devolution of the Meat & Livestock Commission (MLC), free advisory support is no longer available. Existing consultancy services are driven by market demand and with their skills now frequently required in other areas, there are only a few consultants with expertise in EBVs.
Challenging policy environment - Direct farm payments (subsidies) under the Common Agricultural Policy (CAP) are currently strongly linked with the maintenance of good environmental conditions (e.g. farmers are paid for keeping permanent pastures, buffer strips, etc. within farms). Such incentives are widely perceived as slowing the uptake of technologies that could improve productivity, such as EBVs.
Outdated and inflexible data recording and management systems - The manual data entry system of Signet, the sole provider of sheep and beef EBV services in the UK, is perceived by many farmers as time-consuming and uneconomical to larger producers as rates do not take size of flock into account. For example, in Scotland, farmers with 50 sheep pay the same rate as farmers with 800 sheep, unlike in New Zealand and Australia where the cost depends on the size of flock. The system is also seen as inflexible as it does not allow recording data for crossbred lambs, such as Easycare.
Research Undertaken
SRUC's Behavioural Change and Innovation team are currently applying the IS approach to a number of sectors such as genetics, animal health, and nitrogen management. This briefing, and similar briefings from the SRUC Rural Policy Centre, highlight findings from a multi stakeholder workshop on genetics in the dairy, beef and sheep sectors. Findings highlight that a wide range of stakeholders are involved in many forms of innovation, and that not all are represented by current innovation policies. This is critical for understanding how an EU Innovation Union approach can be applied to this sector. Furthermore, an understanding of the barriers to innovation in a wide range of sectors in agriculture will provide recommendations for polices to support innovation in Scotland.
Policy Implications
Specific policy recommendations based on this case study are:
Introduce objective carcass quality assessment in order to improve the process and show the value of EBVs in terms of meat quality.
Establish clear channels of knowledge exchange between stakeholders at all stages of the sale of sheep.
[Re] introduce one-to-one free or subsidised advisory support for EBV adopters.
Combine environmental payments with farm profits and productivity under the CAP and/or develop selection indices that include environmental benefits, such as reducing greenhouse gas emissions of ruminant origin.
Update the Signet data recording system, while at the same time acknowledging that further IT training may be required for some farmers. Signet is already in the process of developing an automated system and this work needs to be supported.
Author
Fiona Borthwick, SRUC fiona.borthwick@sruc.ac.uk
Topics
Sustainability and Communities , Food, health and wellbeing
Comments or Questions