Assessing Long-term Resilience Within the Potato Supply Chain
Published on 19 March 2015 in Sustainability and Communities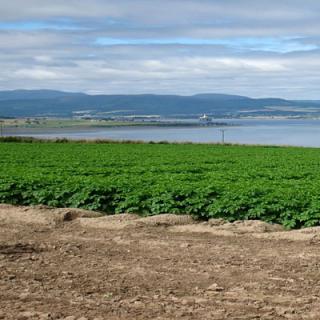 Introduction
There is growing concern that food systems should be more resilient to a variety of shocks (e.g., economic, originating from climate change). Although there is plenty of academic interest in resilient supply chains, the extent of research into what this means for the upstream part of the agricultural supply chain, particularly at the farm level, is rather more limited.
Implicit in the definition of resilience are the notions of flexibility and adaptability. Thus, a product supply is resilient if it is capable: first, to respond to disruptions due to unexpected events and recover from them, and second, to adapt to long term trends in society. Thus, the supply of an agricultural product that has developed its resilience is better able to support, for instance, the unpredictability of domestic or international trade, thereby achieving a competitive advantage through being able to recover more quickly than competitors when an adverse event arises.
Potatoes is a particular case due to (1) it was not subject to a Common Agricultural Policy's 'Common Market Organisation', and therefore, its evolution has been more subject to market forces; (2) together with cereals and oilseed rape, it is one of the most important crops in UK agriculture, estimated at £940 million (£287 million in Scotland) by Defra for 2013; and (3), weather conditions are a constant source of short term shocks as they significantly affect yields, total production, prices and crop profitability.
The purpose of this note is to provide an overview of major trends for the sector to infer from them the sustainability and resilience of the supply of potatoes in the UK.
Key Points
For growers the concept of sustainability involves the ability to continue farming and producing a crop. Within this notion is the importance of economic reward for the resources and effort involved. Environmental and social considerations are present to varying extents in farmers' thinking and actions (depending on the ethos of the individuals concerned), but these mostly only facilitated after economic sustainability goals are met.
Like other crops there are three important drivers of the sustainability of potatoes, which are related: (1) factors affecting the choice of potato production by farmers, (2) factors from the downstream supply chain (i.e., farmers' customers) and (3) regulation.
Factors affecting the choice of potatoes by farmers
High input costs (e.g., high fertiliser and energy costs) and low output prices.
Better profit margins on other crops.
Factors deriving from the downstream supply chain
Demand for products derived from potatoes.
Quality, traceability and food safety assurance requirements.
Sustainability concerns among downstream supply chain participants.
Regulations
Affecting the use of inputs. The use of inputs is also regulated by EU legislation.
To analyse the resilience of the sector we focused on three long term trends:
Research Undertaken
The information presented in this note derives from results of the 2005-2010 Scottish Government Research Programme on the sustainability of Scottish agri-food supply chains and the 2011-2016 research on food security and resilient food supply chains.
The research carried out aimed to:
understand the motivations and behaviour towards sustainability of agri-food supply chain participants
explore how different types of supply chains and market conditions influence sustainability at the farm level
The specific results presented here form part of a study of the Scottish potato sector.
Policy Implications
Some policy implications derived from the analysis:
It is clear that the evolution of potato farming is the result of different short term pressures or long term trends, and its current structure responds to the need of delivering quality and value and to compete in increasingly more volatile agricultural markets.
A challenge for the British potato sector (particularly those offering fresh potatoes) might be to make products more attractive, individual growers need to focus on profitability.
To Increase profitability it is important not only to be aware of farming practices that minimise variations in yields whilst keeping a close eye on costs but also on marketing opportunities to differentiate their produce, in this sense, cases like Albert Bartlett's Rooster potato and Greenvale's Farm Fresh are potential examples to follow.
Increasing resilience to competition from abroad seems to be that farmers should work to establish collaborative and sustainable relationships with the various stages of the supply chain. Within such arrangements, domestic farmers can offer processors a resilient supply of raw material of traceable quality, which complies with all the required specifications, including strong sustainability attributes.
In response to a commitment for a stable supply of the required quality, processors should ensure a reward (expressed in terms of adequate payment reflecting changes in the costs of production and stable demand) that is essential for investment and sustainable production.
To achieve collaborative and sustainable relationships requires reward (commercial benefit) for each partner in the chain and good communication between them which will reinforce the trust between the parties concerned.
Authors
Cesar Revoredo-Giha cesar.revoredo@sruc.ac.uk
Andrew Barnes andrew.barnes@sruc.ac.uk
Topics
Sustainability and Communities
Comments or Questions
Related External Documents