Breeding For Climate Change: Future-Proofing The Scottish Potato Industry
Published on 27 January 2014 in Sustainability and Communities , Climate, water and energy , Food, health and wellbeing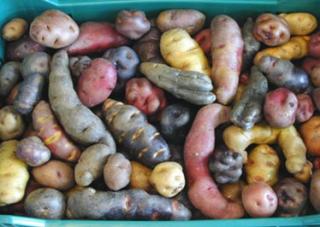 Introduction
The ability to adapt potato to withstand multiple pest, pathogens and environmental stresses is critical to its future growth as a major food source. In current breeding efforts, strong emphasis is being placed on these traits in attempts to better equip the Scottish (and global) potato industries to flourish in a changing climate. The genomics era is accelerating our understanding of the key genes and mechanisms underlying potato development, physiology, water and nutrient use efficiency and resistance to biotic and abiotic stresses. Genomic technologies provide the potential for more rapid, marker-assisted (non-GM) breeding strategies, and afford the opportunity for success with respect to better managing resistance to pests and diseases and enhancing quality and nutritive value. Continued review of GM policies and regulations, and associated social and political opinions, are needed to guide and determine the safest and most productive routes to potato improvement.
Key Points
Potato is a critical crop in terms of food security in the face of population growth and increased hunger rates. Despite this potato production is vulnerable to a wide range of abiotic and biotic stresses.
Scotland has an acknowledged global reputation for producing high quality seed potato with seed exports now exceeding 100,000 tonnes per annum. 75% of exports to non-EU countries are to Egypt, Morocco and Israel and so breeding varieties that are suitable not only for the changing UK climate, but also for different climatic zones is important.
The broadly accepted consequences of climate change mean that potato production is vulnerable to a wide range of pests (including Phytophthora (late blight), nematodes, bacteria, viruses and insects and environmental stresses (drought, heat, cold, mineral deficiency and salinity).
Research Undertaken
The James Hutton Institute is at the forefront of future-proofing the Scottish and global potato industries against climate change and to do this they have, with Scottish Government support, adopted a holistic approach to study and understand the combined pest, pathogen and environmental stresses that accompany climate changes. Indeed the interplay of one stress, such as temperature, may compromise its ability to fight another stress such as infection highlighting the need to think more expansively and in terms of real, rather than reductionist, scenarios.
If we are to ensure a future supply of potato and associated successful Scottish industries it is imperative that we better understand the mechanics of how they respond at the molecular level to the various climate change-associated stresses. The James Hutton Institute, along with other world leaders in potato and pathogen science, are combining resources such as the Commonwealth Potato Collection, a germplasm bank with diverse potato types, and state of the art technologies, such as whole genome sequencing, transcriptomics and metabolomics to discover the genes and mechanisms of the stress responses and their interplay. This knowledge is being used along with the recently elucidated potato genome to develop molecular markers, essentially identifiers at the genetic level, for climate and pest resistance and/or tolerance and these will lead to crops that will provide sustainable yields and secure food supplies in a changing climate.
Policy Implications
Food security: The research will ultimately deliver improved potato cultivars to the Scottish potato industry and populace thereby ensuring economic sustainability and nutrition, respectively.
Scotland's climate change adaptation framework: The research will deliver potato varieties that will require less inputs in terms of fertiliser and water with a commensurate reduction in energy use and GHG emissions.
Waste: By delivering potato varieties that are adapted to the changing climate and "weather" and extreme events leading to reduced levels of spoiled produce and waste.
Water: Potato has a large water footprint requiring significant levels of irrigation during growth compared to other crops. The development of varieties with better water use efficiency will see this aspect of their production impact reduced significantly. Also a reduced requirement for fertiliser by enhancing, for example nitrogen and phosphorus use efficiency, will mean fewer inputs and a reduced likelihood of runoff and the pollution of water courses.
Common Agricultural Policy: The development of resource use efficient potatoes delivers directly into the proposed "greening" of direct payment by strengthening the environmental sustainability of agriculture. It should be noted that the Commission is proposing to spend 30% of direct payments specifically for the improved use of natural resources.
Authors
Professor Derek Stewart, James Hutton Institute derek.stewart@hutton.ac.uk
Dr Mark Taylor, James Hutton Institute mark.taylor@hutton.ac.uk
Topics
Sustainability and Communities , Climate, water and energy , Food, health and wellbeing
Comments or Questions