Parachlamydia - an emerging potential cause of abortion in cattle in the UK
Published on 9 October 2012 in Sustainability and Communities , Food, health and wellbeing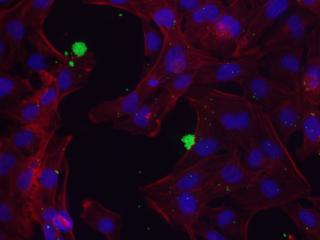 Introduction
Reproductive loss in cattle is a significant welfare issue and of enormous economic importance to the UK agricultural industry. Veterinary Investigation Surveillance figures in the UK show that while 77% of diagnosed cases of bovine fetal death are caused by pathogens, 80% of submitted cases remain undiagnosed. While the causes of these undiagnosed cases are without doubt multi-faceted, there is a significant possibility that some of these cases result from infection with as yet unrecognised or unidentified infectious organisms. In recent years, there has been an increase in the identification of a group of new emerging bacterial organisms that are found in the environment and associated with a variety of conditions in humans, such as respiratory infections and miscarriage. These organisms are biologically very similar to Chlamydia species that cause a broad range of infections and conditions in humans and animals, including sexually-transmitted infections, pneumonia, blindness and fetal death. The organisms are commonly known as Chlamydia-like organisms.
These Chlamydia-like organisms were originally identified from a variety of human, animal and environmental sources, including water supplies. While C. abortus is principally recognised as a known cause of abortion in sheep and goats, several novel species of Chlamydia-like organisms have emerged as associated with abortion in cattle, including Waddlia chondrophila and Parachlamydia species. Since their identification there has been a growing body of evidence, mainly based on the detection of organism DNA in affected tissue samples, but also limited evidence demonstrating an association with areas of pathology in the affected placentas, suggesting a potential role for these organisms in bovine reproductive failure. In humans, antibodies to W. chondrophila have been shown to correlate with infection with recurrent pregnancy loss, while Parachlamydia has been shown to cross to the placenta and found to be associated with community-acquired pneumonia.
Key Points
Reproductive failure in cattle is of major economic significance to the UK agricultural industry.
Most cases of reproductive failure resulting from an infectious cause fail to be diagnosed.
An emerging group of bacteria known as Chlamydia-like organisms have been associated with cases of bovine abortion, as well as with human respiratory and reproductive infections.
Infection in humans suggests a possible zoonotic (transmission of infection from animals to humans) role for these organisms.
In the UK, evidence has been provided showing an association of Parachlamydia species with cases of bovine abortion.
Further evidence has demonstrated the presence of these organisms in drinking water suggesting a potential route for transmission of infection from animal to animal.
Work is underway to investigate the disease causing potential of these organisms, their prevalence in the UK dairy herd and their impact on reproductive efficiency.
Research Undertaken
Most of the studies on Chlamydia-like organisms have been undertaken in mainland Europe, with little known about their presence in the UK until recently. Initial research at Moredun investigated the presence of these organisms in tissue samples obtained from bovine abortions of unknown aetiology. Analysis of the samples for the presence of DNA from these organisms identified 26.5% as being positive for Chlamydia-like organisms, with 68% of these being identified as belonging to Parachlamydia species. No other abortion-causing organisms were identified as being present in these samples.
Further studies from cases of bovine abortions across Scotland were subsequently conducted in collaboration with SAC, AHVLA and scientists at the University of Lausanne and Zurich in Switzerland and confirmed these initial investigations. Using Parachlamydia-specific antibodies, the organisms were identified in 32.2% of placental tissue samples originating from bovine abortion submissions and specifically found to be associated with areas of pathology consistent with chlamydial infection. Parachlamydia has also been identified in cows from a beef herd in Scotland experiencing an annual abortion rate of 4%. Linked with this, parachlamydial DNA was additionally identified in the drinking water troughs on the same farm, suggesting that the water may act as a potential source of transmission of infection.
The identification of these organisms in such a large percentage of the bovine fetal tissue samples tested may be indicative of a role for these organisms in undiagnosed cases of bovine abortion in the UK and Europe, and may be a zoonotic source of infection for humans. The association of the presence of organisms with pathological placental damage supports this view. Given their zoonotic potential and the economic and welfare impact of bovine abortion upon the agricultural sector, further studies are required to understand the incidence and the pathogenic roles of these organisms in both human and veterinary medicine.
To this end funding has been successfully sought from the Biotechnology and Biological Sciences Research Council for a 3 year study to investigate the presence of these organisms on dairy farms across the UK and how this relates to animal production performance. In addition the diversity of organisms identified will be assessed, the sources of environmental contamination as well as potential routes of environmental spread. Importantly the study will also seek to understand the pathogenic and disease causing role of these organisms. The outcomes will lead to improved diagnosis of cattle reproductive failure, inform and educate the industry to the presence of these organisms, lead to improved management systems and allow an evaluation of the potential benefits of future vaccine strategies to prevent disease incidence.
Policy Implications
Reproductive failure in cattle is a major concern to livestock producers worldwide, resulting in significant economic losses and reducing the efficiency and sustainability of production. While there are many factors contributing to reduced rates of reproduction in livestock systems, infection plays a key role, yet the rate of diagnosis of infectious causes of pre-natal death in cattle is poor. The identification of previously unrecognised organisms in such cases and determining their disease causing potential is therefore important in understanding other possible causes of reproductive loss. This will inform future targetted research strategies to improve methods of detection, and the prevention and control of disease to limit animal losses, thus increasing the efficiency of livestock production and improve animal welfare.
Author
Dr David Longbottom david.longbottom@moredun.ac.uk
Topics
Sustainability and Communities , Food, health and wellbeing
Comments or Questions