Squeezed Middle
The James Hutton Institute is launching a series of debates addressing the core issues and challenges facing the way in which land and natural resources are used. The first of these will focus on the land zones which exist between quality farmland and hig
Occuring on Thursday 30 August 1.30pm - 4.30pm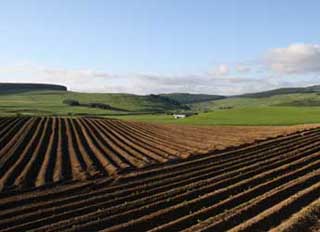 About
The James Hutton Institute is launching a series of debates addressing the core issues and challenges facing the way in which land and natural resources are used. The Hutton Debates series aims to engage society in discussion and identify future needs or solutions.
The first of this series, the Squeezed Middle Debate will focus on the land zones which exist between quality farmland and high mountains, in which it is especially challenging to plan the right blend of land uses to best meet policy objectives and societal demands.
This middle zone is equivalent to the Macaulay Land Capability for Agriculture Classes 3.2 -6.1. Whilst the main policy priority for prime agricultural land (class 1- 3.1) is food production; that for the moors and mountains (class 6.2 -7) is usually sporting and conservation use with some forestry and rough grazing; this squeezed middle is subject to many competing pressures.
Land use policy is multifaceted and is becoming increasingly complex and often contradictory. Those who own and manage it face multiple choices.
The squeezed middle can support relatively intensive ruminant livestock farming and on the better ground arable production; it often has high technical potential for tree growth, especially of conifers; and it contains some intensively managed sporting shooting land, in particular grouse moors.
Land in this zone delivers many societal benefits, such as the provision of clean water, renewable energy sources and high levels of biodiversity interest. The quality of open ground, landscape or native woodland habitats can also impose policy restrictions on some land uses.
Land use choices are necessarily framed by ownership types, tenurial structures, management styles and policy means but getting the right mix of multifunctional outputs on this finite resource is contingent on both appropriate policy frameworks and land managers acting in the public interest.
The Land Use Strategy for Scotland (Scottish Government, 2011) outlines the overarching policy framework, however discussions currently taking place regarding the implementation of this Strategy are likely to advantage or disadvantage particular groups and thereby cause disagreement and conflicting claims.
Join us to debate the future of the 'Squeezed Middle'. Using scientific evidence, the debate will highlight the potential conflicts and offer some options for future land use under different policy scenarios.
Organisation
The James Hutton Institute
Venue
Royal Society of Edinburgh
Address
Royal Society of Edinburgh, 22-26 George Street, Edinburgh, EH2 2PQ, Scotland, UK
For More Info
To register for this FREE event please email events@hutton.ac.uk or Tel: 0845 928 5428.
Please supply your name, job title, organisation and any specific dietary or access requirements.
Topics
Sustainability and Communities , Ecosystems and biodiversity