Improving the diagnosis of endemic livestock diseases
Published on 22 June 2011 in Sustainability and Communities
The infectious diseases of livestock are currently estimated to cost the UK economy £230 million each year. Accurate diagnosis of diseases such as sheep scab is pivotal to providing a sure basis for treatment and applying biosecurity measures to control disease. Moredun Research Institute has developed a diagnostic test for sheep scab which can accurately diagnose sheep infested with the sheep scab mite beforeclinical signs are seen, which could be a vital key in the preventing and controlling this disease, therefore increasing livestock production efficiency and help reduce the carbon emissions from agriculture.

Key Challenges
Sheep scab is one of the most contagious diseases of sheep in the UK. The disease, which is caused by a small mite, causes considerable irritation and is a major welfare concern. Since its deregulation as a notifiable disease in 1992, the incidence of sheep scab has increased throughout the UK, even those flocks with good treatment regimes are continuously battling against re-infestation.
It has been estimated that sheep scab costs the UK sheep industry £8 million calculated in terms of lowered performance, prevention and treatment costs. Much of this control cost is attributed to repeated treatments that may not be used most appropriately. Failure to make a correct diagnosis, incorrect selection of treatment and poor administration of the treatment are also associated with heightened control costs.
Key Benefits
The economic impact of any diagnostic test is potentially much larger where the test is used as a way of verifying the health of an animal, flock or herd before it is moved from one part of the country to another. When used in this way, diagnostic tests can help to avert potentially serious outbreaks that recent history has shown can have devastating economic impacts across society.
As new controls to deal with the increasing incidence of sheep scab in Scotland were introduced by the Scottish Government in December last year. However, for any control or eradication programme to be successful it is crucial that all infested animals are identified, including subclinical cases.
Due to longstanding financial investment from the Scottish Government, Moredun Research Institute has developed an extremely strong reputation of applied research and in translating its research into practical outputs such as diagnostics for livestock diseases.
For any control programme to be successful it is crucial that all infested animals are identified, including subclinical cases. Moredun's new diagnostic test for sheep scab therefore has a crucial part to play in Scotland's sheep scab eradication scheme.
The collective financial support from the Scottish Government and Defra and with additional support from the UK levy boards, EBLEX, QMS and HCC has enabled scientists at Moredun Research Institute to develop a new blood test for sheep scab. This new test can accurately diagnose sheep infested with the sheep scab mite before clinical signs are seen, which will have a massive positive benefit to the health and productivity of UK sheep, leading to higher production efficiencies.
The patent for this new diagnostic test has now been protected and Moredun is working with commercial partners in order to develop this test. Moredun scientists together with a diagnostic company are also developing a further test for scab which would provide a much more rapid result without the need for laboratory analysis. It is hoped that this new diagnostic test may be a useful tool to aid the control of sheep scab in the future.
This research and the resulting adoption of this test will help maximise the health of the UK livestock. Any increase in their production efficiency will lead to a reduction in their carbon emissions and their impact on the environment, therefore assisting the agriculture industry to play its part in reducing the environmental impact of animal production.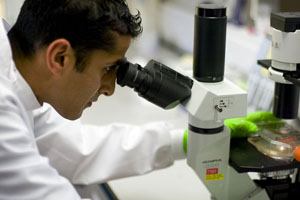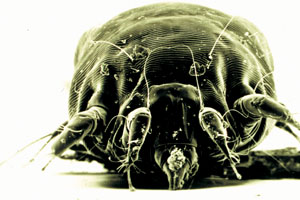 Comments or Questions
Related Websites
Our Partners
Moredun is grateful to the Scottish Government and other funding partners for their financial support. This support has enables Moredun to leverage additional funding to support research into the development of a diagnostic test for sheep scab from Defra. The levy boards in the UK, EBLEX, QMS and HCC have also supported this work.
Find Out More
For more information contact Dr John Huntley (john.huntley@moredun.ac.uk) and Dr Alasdair Nisbet (alasdair.nisbet@moredun.ac.uk ) at the Moredun Research Institute, Pentlands Science Park, Bush Loan, Penicuik, EH26 0PZ.
Author
Dr John Huntley john.huntley@moredun.ac.uk
Topics