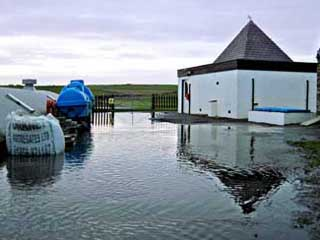 Water Works March winner
The winner of March's Water Works competition has been announced as eight-year-old John Smith from Orkney with his photograph 'Flood at the pumping station'.
John explained: "My photo shows the local pumping station in the North of Stronsay, flooded due to the loch nearby overflowing. This caused problems for my Dad, but I got his camera and took a photo because the reflection of the pumphouse was 'bonnie'."
Selecting his photo as the winner the judging panel said: "Flooding is a major issue globally and of increasing concern within the UK. This image reflects the impact even a small local flood can have."
The judges also highly commended entries from Nadia Lyon of Grove Academy, Dundee, Nadine Ralston of Woodside Primary School, Aberdeen and Aimee Holtom of Banchory Academy.
All the entries can be seen on the James Hutton Institute Facebook gallery page.
Full details of the competition and how to enter can be found here. A winner will be chosen each month as well as an overall winner for the year who will receive vouchers and a canvas print of their photograph.
The Water Works competition is being run by CREW, the Centre of Expertise for Waters.
Published on 18 April 2012 in Climate, water and energy
Topics
Year Published
RSS Feeds