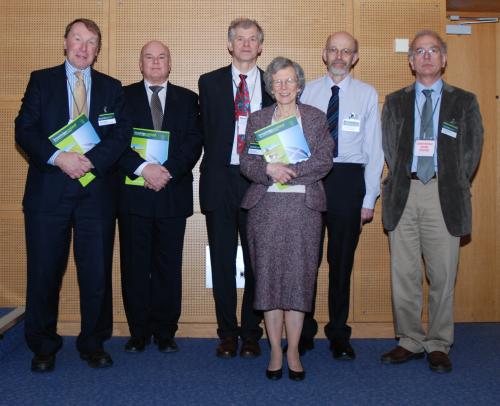 Celebrating 5 Years of Scottish Research
The Scottish Government's Minister for the Environment and Climate Change, Roseanna Cunningham MSP, has praised the work of the Scottish research institutes. Speaking at a one day event in Edinburgh organised on behalf of knowledgescotland, the Minister said Scottish Government investment in research was delivering significant benefits.

The event, at the Scottish Government's Victoria Quay offices in Leith, was called: 'Scotland's people, environment and rural economy: connecting research and policy'. The Minister told her audience of scientists, policy makers and other stakeholders:

"Only last year the Scottish Government published a report commissioned from consultants that provided an independent evaluation of the impact of its investment in its Main Research Providers (MRPs).

"The report concluded that the MRPs were making a significant contribution to the Government's single purpose of sustainable economic growth and also to the objectives and outcomes set out in the National Performance Framework.

"We can be confident that your research is of high quality. Independent studies have shown that in agricultural science Scotland has topped the league in the number of citations per publication."
"That means others recognise the excellence of your work and that Scotland gains from all the benefits that flow from that."

She also praised the knowledgescotland initiative. The Minister said it raised the profile of Scottish research, especially to non-scientific audiences. The project, she said, had added a new dimension to the research programmes and had enhanced its outward looking focus.

Finally, there was praise for the Scottish Government's Chief Scientific Adviser for Rural Affairs and Environment, Maggie Gill OBE. Roseanna Cunningham said: "I want to take this opportunity to thank Maggie for her vision, drive, determination and energy in bringing this work to fruition."

During the day there were presentations on the research outcomes from the current five year research programme.
The principal speakers were:
Professor Harry McArdle (Rowett Institute): "Diet for healthy living".
Professor John Oldham (SAC): "Making livestock production fit for the future".
Professor Howard Davies (SCRI): "Plants, profits and policy".
Professor Steve Albon (Macaulay Land Use Research Institute): "Sustaining multi-functional landscapes and rural communities".
Dr Philip Balls (Scottish Government): "Looking forward: new areas, new approaches to research".
Published on 25 February 2011 in Climate, water and energy
Topics
Year Published
RSS Feeds