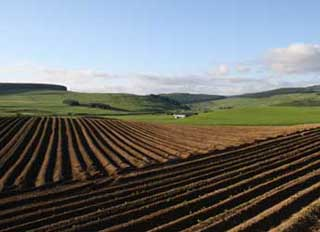 Challenges of the Squeezed Middle
The most contentious land use zone in Scotland - the "squeezed middle" strip between prime arable land and high nature conservation mountains – is the subject of a major debate being held by the James Hutton Institute in Edinburgh on Thursday 30 August.
Conflicting pressures on this ribbon of land range from livestock farming, arable cropping, forestry, sport shooting, conservation and landscape protection and as pressure grows on the squeezed middle, the Institute's chief executive, Professor Iain Gordon believes there are lots of "mixed signals" on what is required there in future.
Speaking ahead of the debate he said: "As Scotland's leading Institute providing advice and guidance on the use of land and natural resources, our job is to inform people of the issues and catalyse the debate on what pressures exist and how we most effectively use land to achieve the outcomes society wants."
The land in question includes much of the Central Belt, the Borders, southwest Scotland and the northeast lowlands, some of the better crofting land and areas of the main east coast straths. It is also home to many diverse rural communities and delivers societal benefits such as the provision of clean water, renewable energy sources and high levels of biodiversity interest.
A short discussion document outlining the potential conflicts and offering some options for future land use under different policy scenarios will accompany the event and be debated by a panel which includes Professor Des Thomson (Scottish Natural Heritage), Simon Thorp (Scotland's Moorland Forum), Professor Bill Slee (James Hutton Institute), Jo Ellis (Woodland Expansion Advisory Group) and Scott Walker (NFU Scotland).
This event is the first in a series of free Hutton Debates that will address core issues and challenges facing Scotland and the globe on how land and natural resources are used.
The Squeezed Middle debate will take place 1.30pm - 4.30pm on 30 August at the Royal Society of Edinburgh, 22-26 George Street, Edinburgh. For more information see the Squeezed Middle event page. Places can be booked by emailing events@hutton.ac.uk
Published on 15 August 2012 in Sustainability and Communities , Ecosystems and biodiversity
Topics
Year Published
RSS Feeds