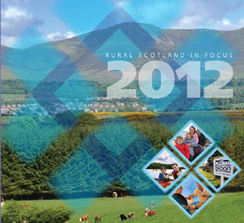 Tailored policies needed now for rural Scotland, argues new SAC report
Rural Scotland in Focus 2012 (RSiF 2012) draws together the available evidence to paint a detailed picture of rural Scotland today and how it is changing. The report highlights differences between rural and urban Scotland on issues such as migration trends, employment and housing. It also demonstrates variation within rural Scotland due to factors such as population change, accessibility to services and remoteness. The report calls for policymakers to recognise these differences and tailor policy measures to local characteristics.
Examples of where the report suggests such tailoring is needed include the private and voluntary sectors – it claims more should be done to understand and support the special role businesses and volunteers play in Scotland's rural communities. Also presented is an updated index ranking 90 Scottish towns according to their vulnerability to downturn associated with economic and social change. This 'Vulnerability Index' underpins the report's call for targeted funding and policy measures for towns.
Considering a low carbon future for Scotland, RSiF 2012 argues that very little consideration has been given to what this might mean for those living in rural areas. It highlights a need for carbon reduction policies and targets specific to Scotland's rural communities, over and above those for the land-based sector.
The authors state that in order for rural Scotland to be part of the digital age – with the economic, social and environmental benefits this directly brings – overcoming broadband "not spots" and "twilight zones" must be a priority. Without dedicated measures involving government, the private sector and communities to increase rural Scotland's connectivity to next generation broadband, its residents will be prevented from realising commonly accepted 'rights'. These include access to education, information, job opportunities, social networks and services.
SAC Researcher and editor of RSiF 2012, Dr Sarah Skerratt, said: "We believe the evidence in Rural Scotland in Focus 2012 shows that to enhance growth or development, inclusion and life-chances in rural Scotland, policies must be "tailored" to address differing local characteristics.
"This is not an argument for giving rural areas privileges over urban. We believe there is a precedent for tailoring in other areas of policy linked to a national ambition for greater social and economic inclusion. Localising design and delivery can be seen as an expensive luxury in straitened times. However, not to localise for rural areas means that scarce resources are inappropriately allocated and challenges remain unaddressed."
For further information visit the SAC Rural Scotland in Focus page.
Published on 29 May 2012 in Sustainability and Communities
Topics
Year Published
RSS Feeds