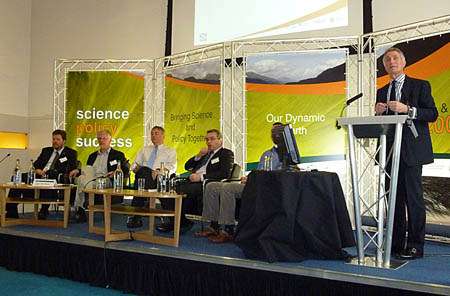 Science Policy Success Presentations Now Available
The Science Policy Success conference was held at Edinburgh's Dynamic Earth on Wednesday 7 October and Thursday 8 October 2009.
More than 100 Scottish Government staff, academics, scientists from the Scottish research institutes and individuals from the rural and environment agencies attended.
They were able to watch presentations on the themes of sustainable development, climate change, health and wellbeing and biodiversity. The speakers were drawn from all the participating research organisations which support knowledgescotland: the Macaulay Land Use Research Institute, the Mordedun Research Institute, Scottish Agricultural College, SCRI, the Rowett Research Institute at the University of Aberdeen and the Royal Botanic Garden Edinburgh.
A keynote address was delivered by the Scottish Environment Minister, Roseanna Cunningham during the Wednesday afternoon session in which she underlined the importance of the contribution made by the rural and environmental research community in Scotland.
One of the main themes of the conference was the importance of improving the linkages between scientific research and the formation of government policy in Scotland – the main goal of the knowledgescotland initiative.
The post-conference evaluation found that more than 70% of the respondents believed it had achieved the aim of improving the links between science and policy. Eighty-nine per cent were interested in attending similar events in the future.
The main speaker in a session called "Don't Shoot the Messenger" was the writer and broadcaster Lesley Riddoch.
An article written by Lesley reflecting on the challenge along with other speaker presentations and posters are available on the Science Policy Success page of the SCRI website. The short film commissioned for the conference, 'Climate Change: The Word on the Street' is also online.
Published on 09 November 2009 in Sustainability and Communities , Climate, water and energy , Ecosystems and biodiversity , Food, health and wellbeing
Topics
Year Published
RSS Feeds