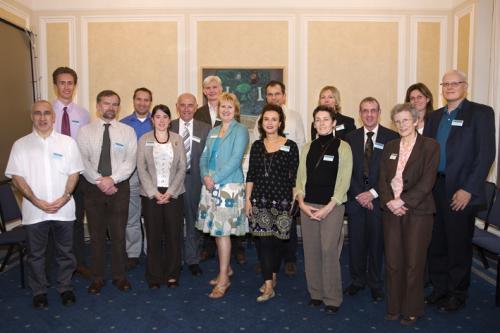 Minister For Environment Encourages Improved Communication Between Scientists And The Government
At a reception in Edinburgh on Monday 31st August, over sixty research scientists working in the food, health, environment and rural sectors, policy advisors from the Scottish Government and the Environment Minister chatted informally about how they could better work together in order to improve communication and exchange knowledge.
The event marked the launch of a new Work Shadowing Scheme, which was organised by Moredun Research Institute through the knowledgescotland initiative. The project has paired ten scientists from Moredun Research Institute, SAC, Scottish Crop Research Institute, Rowett Institute of Nutrition and Health and the Macaulay Land Use Research Institute with representatives from three Directorates of the Scottish Government: Rural; Chief Medical Officer and Public Health and Rural and Environment Research and Analysis. The work shadowing scheme ran for one week ending on 4 September.
The Minister for Environment, Roseanna Cunningham said; "As Minister for Environment I am especially reliant on scientific advice and I need to have confidence that it is impartial, reliable and robust to challenge. This is only possible through the science community sharing their knowledge and findings." She continued, "The knowledgescotland project is of special interest to me as it brings people together to lower barriers and improve communication. This work shadowing scheme will give scientists the opportunity to experience at first hand how the Scottish Government operates."
Professor Maggie Gill, Chief Scientific Adviser for Rural Affairs and the Environment shared the Minister's enthusiasm for this project. She added; "Working together to achieve a common purpose is a key principle of the Scottish Government's National Performance Framework and work-shadowing is an excellent way of learning how to do that effectively. I am delighted that partnerships of customers and suppliers of research have been selected and I would like to congratulate those involved in taking forward this approach."
Dr Lee Innes, Director of Communications for Moredun commented, ""The aim of the work shadowing scheme is to help break down barriers between scientists and government policy officials and hopefully allow participants and hosts to gain a better understanding of the context and pressures under which each of them operate. We hope an outcome from the scheme will be to foster closer links and more effective working relationships between scientists and government colleagues"
August 2009
Published on 08 September 2009 in Sustainability and Communities , Climate, water and energy , Ecosystems and biodiversity , Food, health and wellbeing
Topics
Year Published
RSS Feeds