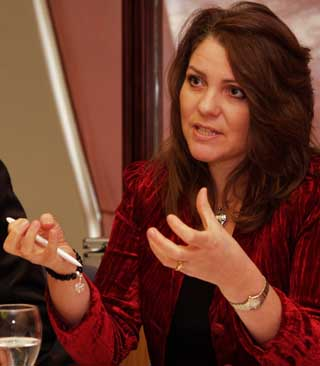 Scottish research praised
Scientist Heather Reid OBE, speaking at a knowledgescotland news briefing, has paid tribute to the benefits Scottish Government funded research brings to the economy.
"Scottish science really punches above its weight, globally. It generates millions of pounds of activity in the economy each year. This is really going to help the recovery of our economy and future growth," she said.
Heather was launching a series of updates about the work of the Scottish Research Institutes which will feature in the media over the next few weeks. Best known for her TV role as meteorologist "Heather the Weather", she is now working in science communications and education.
She told the meeting in Glasgow: "There's an equally important contribution the Scottish research institutes make, and that is to our quality of life and improving our health and well-being. This is a really important message for the general public, to raise awareness about the benefits of this science and to young people who will be the scientists of tomorrow and also the decision-makers and policy-makers of tomorrow."
The contribution that research institutes make to your Christmas Dinner was also outlined at the meeting. See the file below to find out how they make a difference to key ingredients.
Published on 09 December 2010 in Sustainability and Communities , Climate, water and energy , Ecosystems and biodiversity , Food, health and wellbeing
Topics
Year Published
RSS Feeds