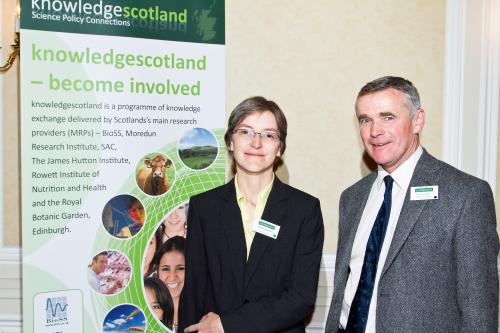 knowledgescotland work shadowing scheme again rated highly
The evaluation report for the third work shadowing scheme is now available.
What is the work shadowing scheme?
The Knowledgescotland work shadowing scheme aims to improve links between Scottish scientists and policy makers, by placing scientists from Scottish research institutes in various Scottish government departments to observe the work of their policy counterparts. Following a successful pilot in 2009, the three day scheme has been running for the last two years. The programme also includes events which bring all the participating scientists together, including an evening reception and a visit to the Scottish parliament.
Key outcomes
Understanding processes and context
Scientists reported that the scheme increased their understanding of how policy is made and how research is used by policy makers. They also gained valuable insights into the constraints of the environment policy makers' work in; the breadth of topics they cover, the pressurised timescales they work to and the complex factors they must account for when making decisions. Some scientists also gained an increased awareness of how research is commissioned, the government's strategic research priority areas, and how researchers can link to this wider agenda in order to help secure future funding.
All participants gained a better understanding of how scientists and policy makers perceive each other and how their respective cultures and institutions work.
Building relationships
Most scientists felt the scheme had allowed them to begin building relationships both with policy workers and with other scientists which may lead to increased collaborations in the future. Following the 2012 scheme a number of follow up events have been arranged by individual researchers and their hosts in order to maintain and build this relationship.
The scientists involved in the scheme also gained an appreciation of the importance of personal networks for policy makers, acknowledging that these contacts are often the first port of call for policy makers seeking information and advice on a particular topic. Scientists built an appreciation of the need to forge closer relationships with policy makers to help shape and inform policy in their specialist areas but felt that the high staff turnover within policy departments made this challenging.
Improving Communication
All participants reported that they gained confidence in communicating with each other as a result of the shadowing scheme. Scientists also developed a better understanding of how to communicate most effectively with policy makers, who to talk to, the information they needed, and when this communication should occur to have maximum policy impact.
Improving the shadowing scheme
Allowing the scheme to run more flexibly over a longer time frame was suggested. This would allow scientists to participate in meetings and activities connected to their area of interest and would relieve the pressure some policy hosts felt in finding interesting things for participants to observe over the fixed three day window of the programme.
Improving knowledge exchange
To improve knowledge exchange, and make the process truly two-way, many scientists suggested a reverse scheme whereby policy makers shadow scientists at their research institutions. However it was acknowledged that finding time for such a scheme may be difficult given the time pressures faced by policy makers.
A full account of the latest shadowing scheme and evalution by participants is available in the newly published Evaluation report.
Published on 25 February 2013 in Sustainability and Communities , Climate, water and energy , Ecosystems and biodiversity , Food, health and wellbeing
Topics
Year Published
RSS Feeds