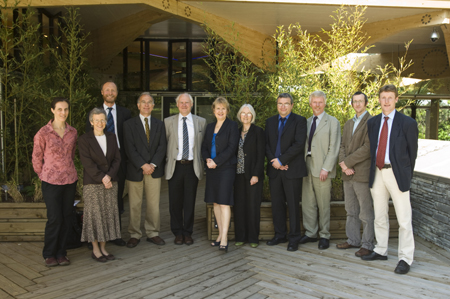 Ministerial Briefing On Biodiversity
A panel representing Scotland's Main Research Providers convened recently at a special Ministerial Briefing at the Royal Botanic Garden Edinburgh.
Those attending included Biomathematics and Statistics Scotland, Macaulay Land Use Research Institute, Moredun Research Institute, The Rowett Institute of Nutrition and Health, the Royal Botanic Garden Edinburgh and Scottish Crop Research Institute.
The briefing highlighted the contribution Scottish research is making towards stemming the loss of biodiversity.
Environment Minister Roseanna Cunningham said:
"Our scientists have increased our understanding of biodiversity and provided clear direction on how humans can help support and protect the marvellous variety of life around us.
"Conservation is essential to a greener Scotland. Biodiversity provides us with the food we eat, the air we breathe, it can protect us from floods and reduce the impacts of climate change.
"The natural environment is worth over £17 billion a year to the Scottish economy and supports over 240,000 jobs so protecting it makes ecological and financial sense."
Reader in Agricultural Ecology Dr. Davy McCracken represented SAC on the panel.
In explaining SAC's contribution Davy outlined how SAC works to inform policy makers in Scotland and beyond about farmland biodiversity issues of Scottish, UK and EU concern.
Dr. McCracken mentioned SAC research to develop and improve the working of agri-environment schemes and highlight the importance of less-intensive, high nature value farming systems to European conservation. Scotland has a higher density of potential HNV farming systems than much of mainland Europe and these systems protect biodiversity. SAC research helps government consider the extent of these systems, identify examples and evaluate the management regimes associated with them. This will inform decisions on the best use of CAP funds in supporting Scottish HNV farming.
In addition, Davy McCracken explained how, following the SAC report "Farming's Retreat from the Hills", SAC was carrying out research for SNH on any possible effects on biodiversity in the uplands. He also spoke of SAC's contribution to the work of the chough study group on Islay. These birds have been ringed since 1980 thus helping develop chough conservation programmes on the island.
The health of garden birds has also been the focus of work by SAC's veterinary services with long-term surveillance finding that Salmonella infections carried by some garden birds can build up on dirty bird feeders or drinkers and kill birds weakened by the recent winter.
Most of the Scottish-based research benefits from funding from the Scottish Government through the Rural and Environment Research and Analysis Directorate (RERAD) which helps them to attract other research grants, leading to the highest quality of scientific output.
Dr Davy McCracken can be contacted at davy.mccracken@sac.ac.uk

Published on 24 May 2010 in Ecosystems and biodiversity
Topics
Year Published
RSS Feeds