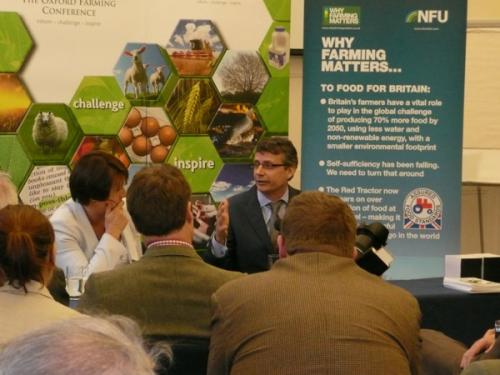 Praise for SAC's Powerful Performance at Oxford Conference
Commissioned by the Conference Board, "Power in Agriculture" examined where the economic, political and natural resource power currently lies in world agriculture, how it might change and what it means to British Farmers.
The report was prepared by SAC Researchers Steven Thomson, Dr. Md. Mofakkarul Islam and Dr Alan Renwick, who made the presentation at the two day Conference held in the Examination Schools during the first week of January.
"Power in Agriculture" considers the influence of national governments, trading blocks, emerging states and trans- national corporations. It focuses on economic power, political power and access to natural resources (eg potash fertiliser). It suggests that with limited natural resources the UK's position as an agricultural player depends on increasing productivity. This requires investment and R&D.
Read the full article on the SAC website.
For further information visit SAC Rural Policy Centre's page on "Power in Agriculture".
Published on 17 January 2012 in Climate, water and energy , Food, health and wellbeing
Topics
Year Published
RSS Feeds