Caution needed over demands on rural volunteers, warns Scotland's Rural College Study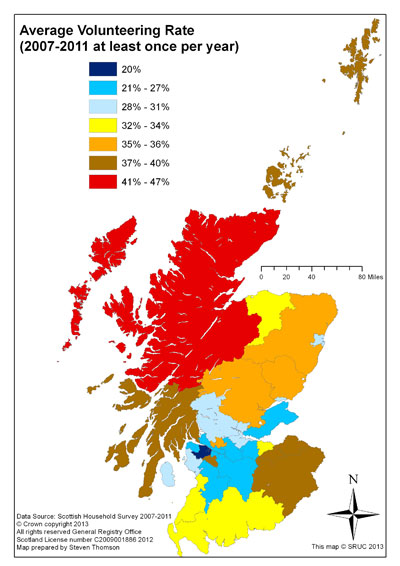 In a study published during Volunteers' Week (1-7 June), SRUC's Rural Society Research Team and Stirling University found Scotland's rural volunteers often undertake roles to fill gaps in service provision such as providing transport, acting a 'first responders' in medical emergencies and doing odd jobs. They are likely to volunteer across a larger number of roles but spend less time in each one. This differs from towns and cities, where volunteering is less service orientated and people divide their time across fewer roles.
Policymakers need to recognise the variation in volunteering activity across Scotland as they seek to increase the third sector's role in delivering local services, say the researchers. They should be aware of areas where rural volunteers are already nearing capacity to avoid volunteer 'burnout', and provide skills development and support where appropriate.
Dr Mike Woolvin, of SRUC's Rural Society Research Team said: "Our research found that there are higher volunteering rates in rural compared to urban Scotland, and rural charities are less likely to report having seen a decrease in volunteers. Some might expect that higher levels of volunteering in rural areas reflect a population that is generally more community spirited than in our cities, but given that rural volunteers appear more likely to undertake service-orientated roles that often fill gaps in service provision, many may be volunteering out of necessity."
Dr Alasdair Rutherford, Lecturer in the School of Applied Social Science at Stirling University added: "Policymakers need to be aware of these geographical differences as they seek to deliver a public service reform agenda with a greater reliance on the third sector. It might not be possible in some areas for volunteers to take on any more responsibilities. Whilst there is on-going support from the Scottish Government to help charities in delivering services, many rural charities are small, operating without paid staff. The role of volunteers should not be neglected."
The study 'Volunteering and Public Service Reform in Rural Scotland' explored the variation of volunteering rates across the whole of Scotland, with the highest rates in north west Scotland and the lowest numbers in the central belt. The focus of rural volunteers' activities is mainly on local community groups, children/young people and religion. There is further variation between 'accessible' and 'remote' rural areas.
Published on 01 July 2013
Topics
Year Published
RSS Feeds