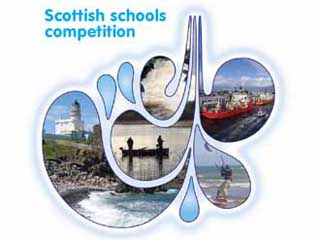 Photographs to show how water works
A trickling burn, a flooded street, a horse's trough or a grand Scottish loch – no matter what comes to mind when you think of water the Water Works competition wants your photographs.
Water Works is a new competition for Scottish schools that aims to get pupils thinking about water in Scotland and how vital it is to every aspect of our lives. We are surrounded by water in our seas, it helps grow the food we eat, make the clothes we wear, produce the cars we drive and keeps our bodies alive but most of us don't give it much thought.
We want school pupils of all ages to enter their water photographs in our monthly online competition to be in with the chance of winning vouchers. A winner will be chosen each month as well as an overall winner for the year who will receive vouchers and a canvas print of their photograph.
Photographs can be taken indoors or outdoors and should reflect our relationship with water, how we use it, whether it is making a cup of tea, watering plants or playing on the beach, or the problems associated with it, such as flooding, drought or pollution.
The Water Works competition is being run by CREW, the Centre of Expertise for Waters.
"Water is a vital resource that sometimes gets taken for granted and we are aiming to promote discussions in schools about its importance and uses by running the Water Works competition," explained Emily Hastings, of CREW.
"We are looking for all sorts of photographs that demonstrate the importance of water in Scotland and are sure we will receive many interesting entries," she added.
CREW is a partnership between the James Hutton Institute and all Scottish Higher Education Institutes which ensures that water research and expertise is available and accessible to the Scottish Government and its agencies. Full details of the competition and how to enter can be found online here.
Published on 03 February 2012 in Climate, water and energy
Related Documents
Topics
Year Published
RSS Feeds