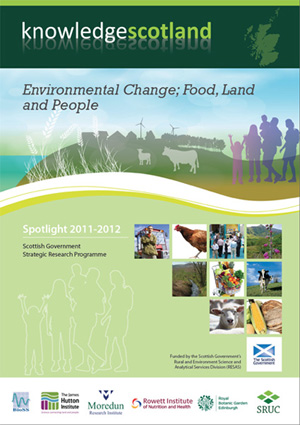 A spotlight on examples of impact from the Strategic Research Programme 2011-12
The newly launched 'Spotlight' document highlights a highly successful year of research output and impact from the Scottish Government's Rural and Environmental Science and Analytical Services (RESAS) Strategic Research Programme (SRP).
The SRP focuses on the delivery of outputs and outcomes within the major policy agenda areas of climate change, land use and food security, and to impact on the 'Wealthier', 'Healthier' and 'Greener' strategic objectives of the Scottish Government.
The research is delivered through two programmes: 'Environmental Change' and 'Food, Land and People'; the core strength of which is the collaboration between the Scottish Government's Main Research Providers (MRPs: The James Hutton Institute, the Moredun Research Institute, Rowett Institute of Nutrition and Health University of Aberdeen, Scotland's Rural College, Biomathematics and Statistics Scotland and The Royal Botanic Gardens Edinburgh).
The research actively seeks to inform and be informed by stakeholders from policy, farming, land use, water and energy supply, food production and manufacturing, non-governmental organisations, voluntary organisations, community groups and general public.
The 'Spotlight' document provides and an overview of impact and offers selected short summaries of research directly funded by the SRP or external research core-funded by RESAS. These examples represent the breadth and balance of activities across the programme's research themes and the MRPs that deliver the research.
Download a copy of the SRP Spotlight document (1 MB).
Further Information
Visit the Strategic Research Programme webpage or download the Knowledge Transfer / Exchange Strategy.
Contact
Charles S. Bestwick, Advisor to Food Land and People Programme: C.Bestwick@abdn.ac.uk
Lorna A Dawson, Advisor to Environmental Change Programme: lorna.dawson@hutton.ac.uk
Published on 07 December 2012 in Sustainability and Communities , Climate, water and energy , Ecosystems and biodiversity , Food, health and wellbeing
Related Documents
Topics
Year Published
RSS Feeds