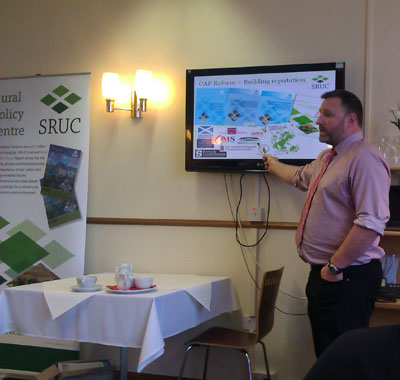 SRUC's Rural Policy Centre Goes on the Road
In November, the Rural Policy Centre (RPC) team visited SRUC's Elmwood and Craibstone campuses with their 'Roadshow' event. It aims to raise awareness of the RPC and its activities and publications, and to encourage more SRUC staff to get involved with the Centre's work.
More than 20 people turned out at both locations to hear about the breadth of the Centre's activities, the growing impact of its work in several policy areas, and to pick up copies of reports and briefings. The Roadshow also discussed ways in which staff working in the RESAS programme can enhance the impact of their work through various dissemination vehicles, including knowledgescotland and social media.
RPC Roadshow events are already organised for Ayr on 30th January (at Auchincruive from 10.30-12 noon and at Riverside from 2-3.30pm). The RPC is planning another event for Barony campus in January and hope to have a fifth Roadshow at Oatridge campus too.
Further information on all of these events will be circulated in due course. Please email Sian Ringrose (sian.ringrose@sruc.ac.uk) if you would like more information about the Roadshows or about the RPC, details can also be found on the SRUC Rural Policy Centre website.
Published on 29 November 2012 in Sustainability and Communities , Climate, water and energy , Ecosystems and biodiversity , Food, health and wellbeing
Topics
Year Published
RSS Feeds