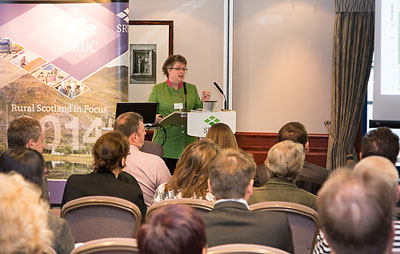 Scotland's Rural Poor 'Falling Through Cracks' Says New SRUC Report
While existing data shows the differences in levels of fuel poverty across 'rural' and 'urban' Scotland, Rural Scotland in Focus 2014 provides a new analysis based on age groups and local authority areas. It shows that on average, 59% of people aged over 60 in rural local authority areas are experiencing fuel poverty, compared to 45% in urban areas.
The highest levels of fuel poverty were found to be in the Orkney and Eilean Siar council areas, where 75% and 76% of over-60s respectively are likely to be affected.
The report authors have called for anti-poverty policies and measuring tools which cater more effectively for the needs of rural areas. They suggest the rural poor fall into the gaps between national and rural policies to address poverty. In addition, national measures of poverty, such as the Scottish Index of Multiple Deprivation (SIMD), are inadequate for use in areas of low population and dispersed settlements.
Report editor, Dr. Sarah Skerratt, said: "The cost of household heating is just one area of poverty in which there is an imbalance between rural and urban Scotland. Poverty and disadvantage in rural areas often remain hidden because national policies and measuring tools do not cater sufficiently for needs of rural areas, while rural strategies do not consistently highlight poverty or how to address it.
"Investment is needed in developing tools for properly assessing rural poverty and disadvantage and developing high impact, rurally-focused measures for tackling it. The cost of making such changes is less than the ongoing cost of people in rural Scotland continuing to live in poverty."
Other issues explored in the RSiF report include rural housing need, the experiences of young people and the competing demands on Scotland's countryside. The report highlights their interconnectedness. For example, there are links between the need for affordable housing, training and job opportunities, broadband and public transport, combined with pressures on a finite rural land supply to meet these needs (e.g. land for housing, business incubator units, renewables, tourism).
Dr Skerratt said: "We suggest policies for rural Scotland do not demonstrate the same level of interconnectedness as the issues faced by rural residents. In order to address this we believe there must be an over-arching vision and strategy for rural Scotland. This would help to focus action on alleviating the challenges, while maximising opportunities presented by its inspiring people and its significant environmental assets."
For further information, see the SRUC Rural Scotland in Focus Report 2014.
Published on 09 June 2014
Topics
Year Published
RSS Feeds