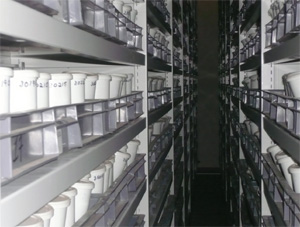 Celebrating World Soils Day: Institute Announces Completion Of National Soil Sampling Project
Results of a national inventory of Scotland's soils will provide scientists with invaluable evidence on climate change.
The Macaulay Land Use Institute has completed a national soil sampling project which it will use to compare with samples taken 25 years earlier from the same locations to investigate the impact of climate change on our soils.
Environment Minister Roseanna Cunningham said: "The quality of Scotland's soil is fundamental to our economic well-being, ensuring our place as a producer of top-quality food and livestock and, subsequently, supporting rural communities.
"The importance of soil in supporting a wide range of ecosystem services, helping us in our battle to combat climate change, is mirrored in the Scottish Government funding of soil research, amounting to £2.7 million annually. Soil health is a research field shared by the Macaulay Institute and Scottish Crop Research Institute who announced in October that they were to unite, strengthening Scotland's rural-environmental research capacity.
"Earlier on this year I published the Scottish Soil Framework, which highlights that Scotland's soils are one of the Nation's greatest assets - a valuable yet vulnerable resource. The Framework promotes the sustainable management of soils consistent with the economic, social and environmental needs of Scotland."
More than 2,000 soil samples will be analysed to determine whether increased levels of carbon dioxide are being released from the soils - one of the effects of global warming. The evidence will be compared with samples gathered 25 years earlier and used to inform policies and guidance on land-use.
Macaulay research scientist, Willie Towers, said: "The results from the re-sampling will provide evidence of how our soils have changed over the past quarter of a century, whether there are signs of increased pollutants and what could be done by farmers and other land managers to ensure soils remain healthy. A joint project with SCRI is underway investigating whether changes in climate have had an impact on the number of earthworms in soil, a vital component in maintaining soil health.
"We have also created an archive of soil DNA to explore the biodiversity within soil which will help develop new measuring techniques."
Soil sampling also offers an educational opportunity and the Institute is actively looking to engage with schools to carry out soil sampling activities in their communities and to demonstrate how soils play a crucial role in almost every aspect of our lives.
Published on 04 December 2009 in Climate, water and energy
Topics
Year Published
RSS Feeds