Wildlife links with Johne's
Published on 10 July 2011 in Food, health and wellbeing
Ground breaking research by SRUC has expanded the known host range for paratuberculosis, the cause of Johne's disease in cattle – a notoriously difficult disease to control and a £27 million problem annually in the UK. Researchers around the world are repeating the Scottish studies to establish the extent of their problem. Rabbits have been identified as a key risk with SRUC's research informing national control strategies, including SRUC's own Premium Cattle Health Scheme.

Key Challenges
Paratuberculosis is a significant challenge to livestock production across the globe and a $200-250 million problem annually in America alone. With links being drawn between paratuberculosis and Crohn's disease in humans, interest in control is increasing. The presence of wildlife hosts of livestock disease pose significant challenges when it comes to disease control. Critical to the extent of the risks posed by wildlife to livestock is whether the disease will persist in the wildlife and whether there is a route of transmission back in to the livestock – SRUC's research finds both.
Key Benefits
Animal disease reduces the efficiency of conversion of feed to livestock food products and thus the efficiency of the food supply chain. Paratuberculosis is a chronic incurable wasting disease and incurs efficiency losses through:
reduced production resulting in animals entering the food chain early
emaciated animals, compromised in their welfare, not entering the food chain
Paratuberculosis control, and thus improved efficiency, also improves a farm's carbon footprint and the resultant reduced emissions assist the agriculture industry to play its part in reducing climate change. SRUC's own economic analysis calculates that paratuberculosis control in cattle would have a positive impact on Scottish trade (up to 5% increase in international net beef/milk trade) and the environment (up to 2% decrease in greenhouse gases emissions). As such this research is addressing global challenges and making a positive impact at local, national and international levels.
SRUC research into paratuberculosis is addressing global challenges and making a positive impact at local, national and International levels. It is informing the control strategies of national cattle health schemes. More effective control can ultimately help tackle climate change and boost Scotland's beef and milk trade.
In addition to the direct contribution to the economy of the livestock sector, SRUC has a commercial Veterinary Services business that is running livestock health schemes that include paratuberculosis control, e.g. SRUC's Premium Cattle Health Scheme, and are developing new products to screen farms and associated environments (e.g. wildlife) to quantify pathogen loads that will inform farm specific disease control strategies. Our research tools and know-how are sold to customers that are responsible for substantial proportions of the livestock production industry. Customers tackling paratuberculosis can use these tools to pursue improved economic performance, improved product quality, improved animal health and welfare, and reduced environmental impact.
The collective support from Scottish Government over the last 10+ years has secured a foundation to obtain new funding sources. These have included the European Union to extrapolate the SRUC findings to the rest of Europe and to develop new epidemiological tools. The rest of the world (America, Japan, New Zealand and others) are also repeating the SRUC research to quantify the extent of their wildlife problem. The introduction of the new Scottish Government research Programme 2011-16 will bring new dimensions of research to the work, specifically to quantify the potential for the livestock industries to control paratuberculosis through the use of current and future tools.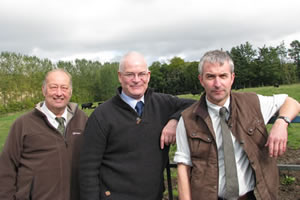 Comments or Questions
Related Websites
Our Partners
Working with Scottish Government, the Scottish Funding Council (SFC) and in collaboration with the Moredun Research Institute and Biomathematics Statistics Scotland (BioSS) on the epidemiology of paratuberculosis ensures that we have access to and use of the very latest epidemiological tools and mathematical modelling techniques and facilities.
Find Out More
For more information contact Mike Hutchings, Mike.Hutchings@sruc.ac.uk
Author
Mike Hutchings Mike.Hutchings@sruc.ac.uk
Topics