Latest Briefing in Climate, water and energy for 2010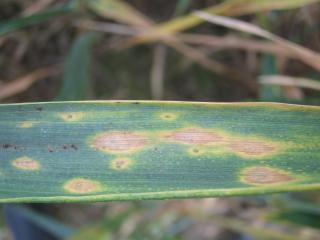 Monitoring crops for new threats provides an early warning of emerging problems affecting food production & quality.
Crops are continually affected by new pest weed and disease threats, and early recognition is important to understand their importance to Scottish food production. Long term changes in the climate may also lead to an increase in new outbreaks and also changes in the types of crops grown in Scotland. Maize is an example of a crop which is likely to increase in area, bringing with it new disease problems which can affect food quality.
When potatoes were first introduced into Europe, no major problems were documented. The fungal disease late blight struck Europe in the 1840s leading to poor harvests which resulted in famine in Ireland and Scotland. Starvation and mass emigration were the consequences of these famines.
Since the Corn Laws put high duties on imported grain, it was not the shortage of food per se, but a shortage of affordable food which caused so much misery. You can travel on destitution roads in Scotland which were built to provide work for people who could not afford to buy grain as a consequence.
Plant pathology was in its infancy at that time and although fungal diseases had been associated with poor harvests, they were not thought to be the primary cause of the damage, hence the lack of knowledge about this disease.
Read more
Published on 18 October 2010 in Sustainability and Communities , Climate, water and energy , Ecosystems and biodiversity
Briefings in Climate, water and energy for 2010
Climate change is expected to cause major changes in precipitation patterns all over the world. Over the coming decades, this will heavily influence riverine water flows and availability of water resources. Read more
Published on 13 October 2010 in Climate, water and energy
In response to Target 8 of the Global Strategy for Plant Conservation a project was initiated in the UK by the Botanic Garden community to encourage Botanic Gardens to grow plants from their own region to develop conservation collections. Read more
Published on 28 September 2010 in Climate, water and energy , Ecosystems and biodiversity
Published on 26 July 2010 in Climate, water and energy , Food, health and wellbeing
Agriculture and the land use sector have an important role to play in the search for efficient means to tackle climate change. Read more
Published on 18 May 2010 in Climate, water and energy
Cryptosporidium and Toxoplasma are two of the most important zoonotic parasitic infections worldwide. Read more
Published on 26 April 2010 in Sustainability and Communities , Climate, water and energy , Ecosystems and biodiversity , Food, health and wellbeing
The increasing variability of UK weather patterns can affect the performance of crop plants in both yield and quality. Read more
Published on 6 April 2010 in Climate, water and energy
Examination of universal dispersal hypothesis (UDH) and its application to microscopic algae and protozoa. Read more
Published on 29 March 2010 in Climate, water and energy , Ecosystems and biodiversity
Keeping one step ahead of aphid vectors . Read more
Published on 17 March 2010 in Sustainability and Communities , Climate, water and energy
90% of fruit consumed in the UK is imported. There is considerable scope for the continued expansion in UK soft fruit production as currently supply cannot meet demand. Read more
Published on 11 February 2010 in Sustainability and Communities , Climate, water and energy , Food, health and wellbeing
This science brief describes two strategies that have been effective to differing degrees in the reduction of methane production from ruminants. Read more
Published on 5 February 2010 in Climate, water and energy