Latest Briefing in Sustainability and Communities for 2014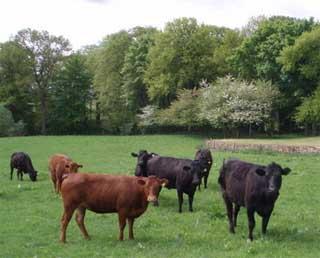 Soil Organic Matter (or soil carbon) is of significant importance, in terms of soil fertility, water retention, structure and biodiversity. Furthermore, soil carbon is of importance to the Scottish Government's goals for climate change mitigation, therefore it is critical to ensure that the large amount of carbon currently stored in Scotland's soil is protected and retained.
Although many farmers routinely test their soil for pH, lime, phosphorus and potassium, most farmers do not specifically measure soil carbon, despite increasing attention from policy-makers and benefits to soil health.
Laboratory analysis is expensive given the number of samples required per farm to provide an accurate overview.
Using soil colour as an indicator of soil carbon concentrations is proposed as a cheaper, quicker, robust and in situ alternative testing option. The use of soil colour testing in combination with the website Soil Information for Scottish Soils, will enable land managers to compare their own soil carbon concentrations against average for a given soil type.
This project aimed to understand the level of farmer awareness, and to raise awareness, of how farmers consider and prepare for possible future initiatives and legislation related to protecting and increasing soil carbon, and how they might use soil carbon information to benefit their businesses.

Read more
Published on 4 September 2014 in Sustainability and Communities , Food, health and wellbeing
Briefings in Sustainability and Communities for 2014
This research briefing summarises the results of a governance and policy analysis for Aberdeenshire. It was undertaken using funding from the Ecosystem Services Theme of the Scottish Government Environmental Change Programme 2011-2016 to support Aberdeenshire Council with the first stage of the Regional Land Use Pilot project. Read more
Published on 11 June 2014 in Sustainability and Communities , Ecosystems and biodiversity
The protection of biodiversity is seen increasingly within the context of ecosystem service delivery, but understanding how biodiversity controls the delivery of ecosystem functions and processes, and hence final ecosystem services, is not straightforward. Read more
Published on 13 May 2014 in Sustainability and Communities , Ecosystems and biodiversity
Research at the James Hutton Institute has addressed how traits can be used to link different trophic levels and to understand how management impacts cascade through functional pathways in ecosystems. Read more
Published on 3 April 2014 in Sustainability and Communities , Ecosystems and biodiversity
The aim of this brief is to present some ideas on how to use EID as a management tool in beef and sheep systems, based on research, demonstration and knowledge exchange activities conducted by research staff at SRUC's Hill & Mountain Research Centre, Kirkton and Auchtertyre research farms. Read more
Published on 24 March 2014 in Sustainability and Communities , Food, health and wellbeing
Understanding the science of effective knowledge transfer and exchange (KTE) and evaluating activities to investigate their potential impact, as well as barriers to innovation, forms an important part of our research. Read more
Published on 24 March 2014 in Sustainability and Communities
This research aimed to describe the Agricultural Knowledge and Information Systems (AKIS) in the UK to better understand who produces and exchanges agricultural knowledge. Read more
Published on 13 March 2014 in Sustainability and Communities
The impact of reducing deer numbers by fencing or culling was shown to have an impact on tick abundance, this research showed. Read more
Published on 24 February 2014 in Sustainability and Communities , Food, health and wellbeing
This research used a mathematical modelling approach to explore whether treating deer with acaricide could, in theory, be an effective way of controlling ticks as an alternative to culling deer. Read more
Published on 21 February 2014 in Sustainability and Communities , Food, health and wellbeing
This research looked at the impact on tick numbers when forestry was felled and the land restored to peatlands. Read more
Published on 19 February 2014 in Sustainability and Communities , Food, health and wellbeing
The ability to adapt potato to withstand multiple pest, pathogens and environmental stresses is critical to its future growth as a major food source. Read more
Published on 27 January 2014 in Sustainability and Communities , Climate, water and energy , Food, health and wellbeing